Adding users to WordPress
Spread the word! Share this article:
Adding users to WordPress is straight forward enough, but there is a right way and a wrong way to go about things. Take the wrong approach and you may find that the access you so badly need is gone.
What we will cover
Why would you need to grant access?
Giving away your login details
Adding users rather than sharing login details
User permissions
Adding users – step by step instructions
Adding extra user information
Summary – adding users to WordPress
Why would you need to grant access?
From time to time when working on your site you may realise that a little extra help could come in handy.
Perhaps you need some SEO doing or have decided it's time to take someone on to write some sizzling articles for you.
No matter the task, you're going to need to give someone access to the backend of your site in order for them to do the work needed.
Giving away your login details.
On the face of it this may seem like the easiest thing to do, but there is one major drawback, and that is security.
You'd probably mail them the details, as soon as you do there is the danger you mail could be intercepted on the way.
There are also now two copies of your password in two separate places. Wherever there is a copy of your password there is a place where it can stolen from.
If you are in the habit of reusing passwords across different accounts (a bad idea but we are all human…) these dangers are magnified further. By sharing your website login you could also unintentionally be sharing access to other platforms too.
If you give your login details away, you are giving someone FULL ACCESS to your site. This may not be an issue if the person you are granting access to is trusted, but to be on the safe side it is always better to err on the side of caution. Why give away full access when only partial access may be needed?
Adding users rather than sharing login details
You may want to grant access to someone to entirely manage your site, or it may be that you want to restrict access to just certain tasks.
The great news is you can do this when adding users to WordPress using user roles.
User permissions
Each role has a set of tasks, or capabilities, like the ability to delete posts, publish pages, update themes, and add users.
As the access increases through the roles available each role inherits the abilities of the previous role.
So for example a author can do all the things a contributor can, and more.
Subscriber
Contributer
Author
Editor
Admin
Super admin
Least access -> Most access
The user can only read posts.
Add and edit their own posts.
Write, edit, publish and delete their own posts.
Write, edit, publish and delete all posts and pages.
Access to all parts of a website.
This role is only available for multisite networks.
This is useful for sites that have member-only content, as content availabilty can be filtered against subbscribers.
Cannot delete or publish posts.

Cannot add media images or media files.

Useful for one-time guest bloggers or a new author

Cannot edit other users pages or posts.

Can upload files.

Can tag and assign categories, but not create them.



Can edit other users posts and pages

Can manage categories, links and comments.

Can create and edit blocks.

Editors mostly oversee content and not website management.
Admins manage websites.

They can add and manage plugins.

They can add and manage themes.

They can add and manage users.

They can also delete websites.
Like an admin, they have full access to the websites they oversee. Super Admins can create and delete websites. They also manage the network, including the websites, plugins, users, upgrades, setups, and themes.

If you only have one WordPress website, you inherently are the Super Admin.
Revoking users
Another great thing about using user roles is if, for any reason, you no longer need someone to contribute you can just edit the role, rather than having to reset the master password.
Imagine if you had given your login details to more than one person, the headache involved in resetting the login details and letting everyone you wanted unaffected know the new ones.
Adding users the correct way
So let's get into the correct way of adding users to WordPress.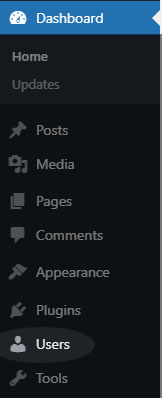 The first thing to do is go to your WordPress dashboard. You can do this by typing in your website address followed by /wp-admin.
So something like this…
www.mywebsite/wp-admin
On the left are the main dashboard menus, which should look similar to the image, Look down the list until you see users.
Hover over it and you'll see the following.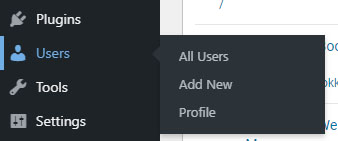 All users – this will give you a list of all the users who have been registered, and allows you to edit them if needed.
Add new – allows you to add a new user.
Profile – This allows you to edit the profile of the currently logged-in user.
For now, we are interested in Add new, so click on that option.
When you do the interface will change. The menus will remain on the left but the main area will now display the following.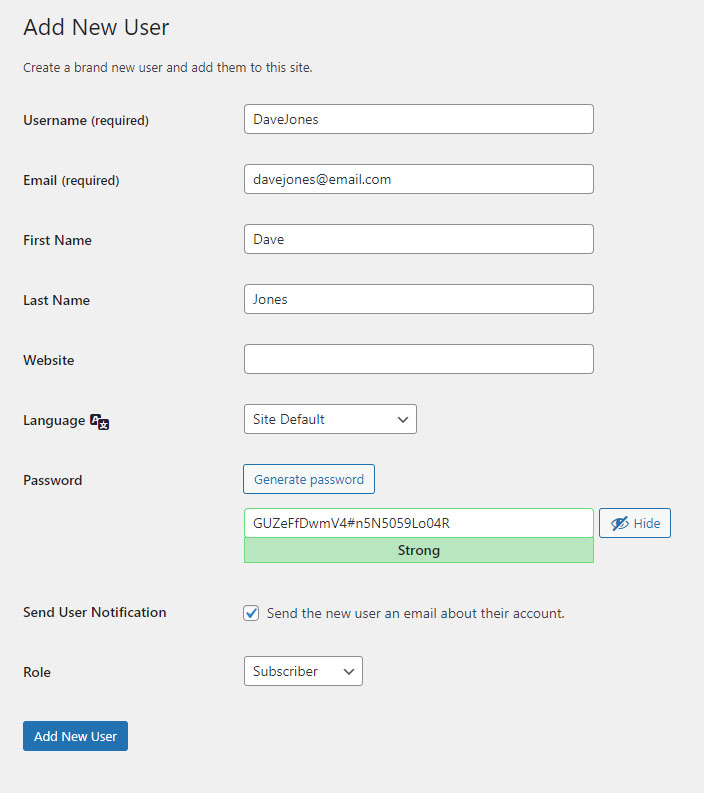 This is pretty straight forward, but there are a couple of things to note so I'll run through things one by one.
Username

This is the internal administration name of the user. It can be anything you like, one idea is to use the first name and last name of the person, with no space between.
Email (required)

The email associated with the person you are adding. Used for admin purposes. This can also be used later for informing the user they have been added.
First Name

While this is not a required field, I would recommend that it is filled in as you may be using this later.
Last name

While this is not a required field, I would recommend that it is filled in as you may be using it later.
Website

Used for if you want to have a particular website mentioned as a part of this user profile.
language

Allows you to set the language for the user.
There may be a time that you have another user working on your website that is not familiar with your native language. Rather than updating the WordPress configuration to change the language of the Dashboard and front end for all users, you can create an individual user and change their default language to their native language.
Leave as default unless you have a special case.
Password

You can choose to accept the suggestion, generate a new suggestion or type in a password of your choosing into the box.
Completing the process.

Once you are happy with the information you have entered the last thing to do is choose their role and press add new user.
The role can always be changed at a later date if needed.
It's worth keeping 'send user notification' checked on so they get an email saying they have been added in.
Adding extra user information
Once you have added a user it is worth mentioning that you can, if you want, add additional details about them.
Again, from your dashboard, navigate to all users.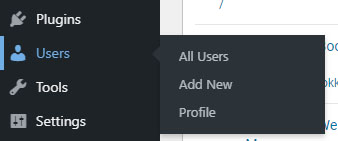 And select them from the list…

From here you can configure the appearance of WordPress for this particular user.

You can also further configure their profile adding in social media profile URLs and biography information.
The one thing I'd like to draw attention to the 'display name publicly as' field which is at the bottom of this section.
If the person is writing blogs what you select here from the dropdown will be what will be used as the author's name against each blog they write.
Summary – adding users to WordPress
I hope you've found this article useful and that you see the benefits of using the user roles when adding users to WordPress.
Find out more about our web development services, or get in touch to have a chat, we'd love to hear from you.
Spread the word! Share this article:
ProfitAbility Virtual Assistance specialises in Small Business Support for Business Owners