Ramp up your business during Christmas
Spread the word! Share this article: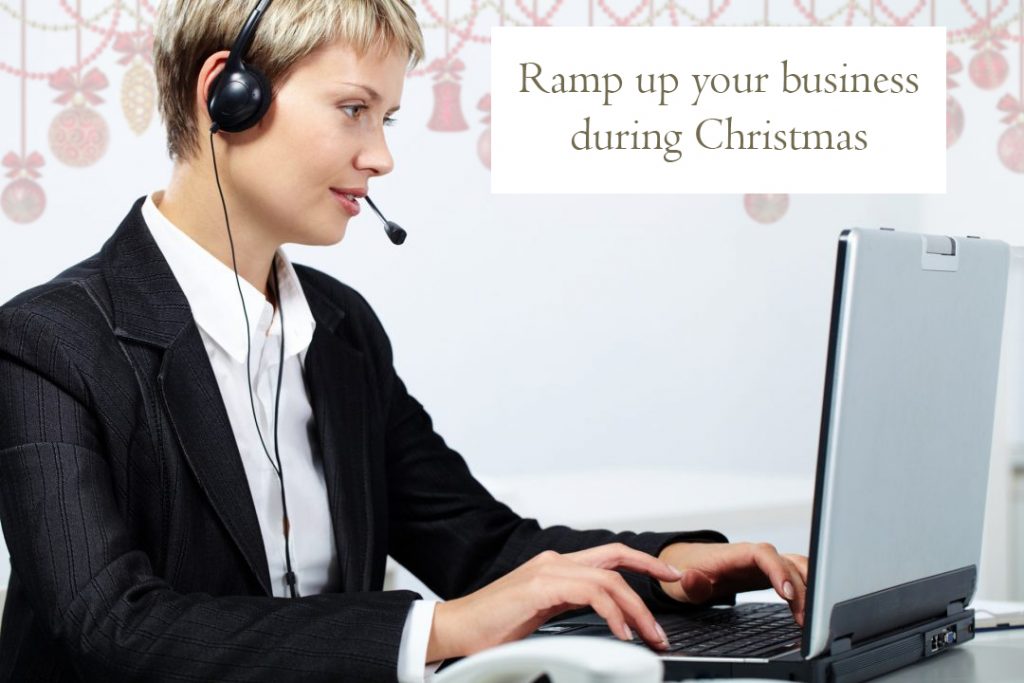 Help ramp up your business during Christmas shutdown
After the cluster-fluff that was the last year, many businesses will be looking towards the Christmas shutdown with a tear in their eye.
For some it cannot come soon enough, for others, the end of the year is a mixed blessing.
By the end of any year, business owners are generally tired, slowing down and looking forward to R & R for a brief period until we do it all again in the new year.
While the pull of needing to take a break from it all to recharge the batteries may be strong, for some business owners, the fear of losing business and cashflow by being closed can be anxiety-inducing.
So, how can you keep your business going during shutdown, how can you ramp up your business during Christmas while still giving yourself a much-needed break?
A Virtual Receptionist could be the answer (better add it your list for Santa).
What is a virtual receptionist?
A virtual receptionist is a very real person who can take care of repetitive tasks, or the things you do not have time to do yourself in your business.
Virtual Receptionists can become an extension of your business; managing phone calls, customer enquiries, bookings and taking messages on your behalf.
For business owners needing a break from their business but still want to be 'open' to customers, a virtual receptionist can keep the lines of communication open for your business over the Christmas shutdown.
Let's face it. Christmas is typically the biggest chunk of time off for workers, and what do they want to do in this time? Shop, eat, drink, indulge, pamper themselves and recharge their batteries…which is kind of challenging when most businesses are closed.
While you might not have customers demanding a mani-pedi on Christmas Day, imagine coming back from your much-needed break in the new year to find your business is booked out for all of January and February?
This is a true story that happened for one of our Virtual Reception clients, in the beauty industry.
Closed, but still open for business
This beauty salon was only booked for 50% of January prior to the shutdown period.
They appointed ProfitAbility Virtual Assistance to answer their phones and take bookings over the Christmas to New Year period*.
After taking a week off (with the ability to really relax knowing phone calls, bookings and social media messages were being taken care of by their virtual receptionist), the business owner came back not only with a new lease on life, but to being fully booked for January and February…in just one week!
If they had simply diverted their phones to message bank, those customers could have been lost.
Working as their virtual receptionist, our team answered calls about their business services, hours of operation, availability, pricing and managed their bookings on their behalf.
All the while, maintaining the professional impression their customers expected.
How much do Virtual Receptionists cost?
Outsourcing to a Virtual Receptionist may sound a bit counter-intuitive in these challenging economic times, particularly given how financially stressful Christmas can be.
However, when you do the math, contracting out time consuming tasks can actually save you time, money and it can generate more revenue for you, by freeing up your time to do what you do best: reconnecting with customers, chasing new leads and refocusing your marketing efforts.
Or, in the case of Christmas shutdown, allowing yourself a much-needed break to digest the events of 2020 and to put a plan in place for a successful business year.
Short Term Virtual Receptionist Support starts from as little as $20 – now that is effectively the cost of the cocktail you will be drinking poolside.
Virtual Reception Packages are flexible to suit your business needs and there are no minimal lock-in contracts, so you can get back to business in the new year.
Summary – How to ramp up your business during Christmas
What can I do next?
Do you have a question about how a Virtual Receptionist can improve your day or even your year? Check out our FAQs or our Small Business Learning Centre for more.
Also why not take advantage of our FREE 15 minute Virtual Receptionist Strategy Session today.
*Our Virtual Receptionist services are available across the Christmas – New Year Shutdown period, excluding public holidays of Christmas Day, Boxing Day, and New Year's Day.
Spread the word! Share this article:
ProfitAbility Virtual Assistance specialises in Small Business Support for Business Owners