HOW TO: Schedule social media for your small business
Spread the word! Share this article: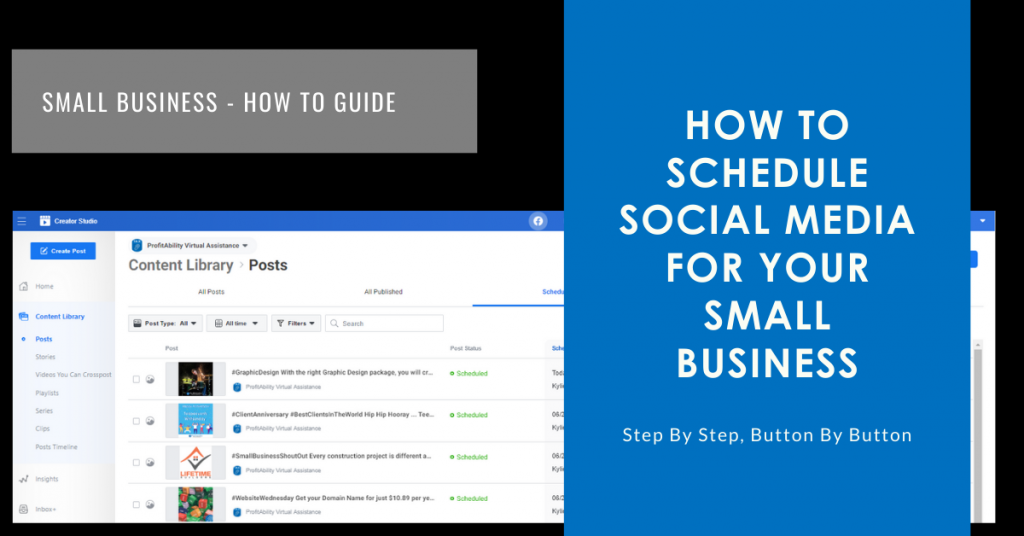 Do you know you can schedule multiple posts across multiple social media channels at once?
This means you can schedule Facebook and Instagram posts for free in one sitting … no more sitting on your socials 24/7!
How often should I be scheduling posts?
Ideally, every day.
Why? Search Engine Optimisation 'spiders' regularly crawl through the internet seeking out fresh content.
If they detect new content on your website and social media channels such as Facebook and Instagram, you will be bumped up the list of online search results for your business, product or service.
This is a really good thing because it makes it easier for people to find you!
No one wants to be on page 3 of an online search … no one ever looks there.
Won't that be time consuming?
Honestly, it can be.
It's not enough just to get likes and emojis on Facebook or Instagram. You want your followers engaging with you on a deeper level.
This means coming up with timely, relevant and appealing content that cuts through the clutter. And yes, this can take time.
One of the most time effective ways to schedule Instagram and Facebook posts is to set aside a window each week or month and dedicate that window purely to content generation.
Populate a spreadsheet or table with your content depending on time of year (seasons, tax time, special offers, celebrations, etc.) and start scheduling.
Done right, scheduling social media posts for free is one of the best ways to save time, increase productivity and stay connected with your customers.
How to schedule Instagram posts
It is free to schedule Instagram posts. There are also apps and programs that can help you with scheduling.
But scheduling is quick and easy to do:
Go to Creator Studio http://facebook.com/creatorstudio
Creator Studio is effectively a free Facebook and Instagram post scheduler.
Here you will be automatically be logged into the accounts and pages connected to your Facebook account, such as Instagram.
Presuming your Instagram account is already connected, the Facebook and Instagram icons will be displayed on the top bar. Toggle over to Instagram (the camera icon).

2. Opt to Create Post
Click the button and select your option (Instagram Feed for still photos, IGTV for videos).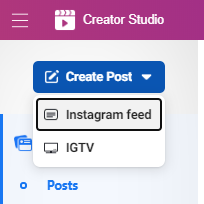 3. Choose your Instagram account
If you have multiple accounts, select the Instagram account to use. If you have just one account, only that account will be listed as an option.
4. Write your post
The window then expands to allow you to create your Instagram post. Upload your content with hashtags (you have 30 max).
5. Schedule the date and time you want your post to appear
With your content drafted, you are ready to schedule.
You will see a Publish button on the bottom right hand side of your post.
Next to this, is a drop-down arrow button which shows the option to schedule a post.
Click the Schedule option. Select the date and time you want your post to publish to Instagram.
Click Schedule to upload your content for posting at the nominated time.
Once your post is scheduled, it will appear in your content library along with published posts.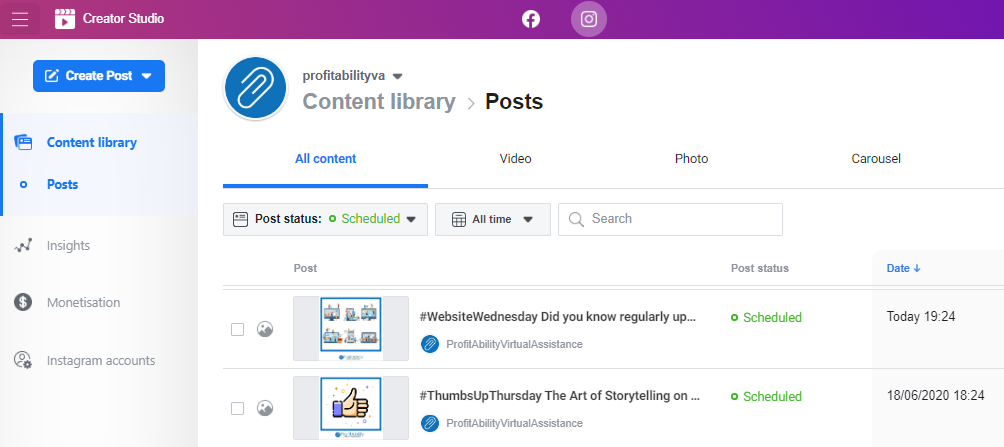 How to schedule Facebook posts
Again, it is free (and easy) to schedule Facebook posts.
Basically, follow the same steps as for scheduling to Instagram using Creator Studio, but this time select Facebook as the platform.
Note: You can simultaneously post an Instagram post to your associated Facebook account, however cross-posting the same content is not recommended as a good social media practice.
If scheduling social media for your small business has you stumped, ProfitAbility Virtual Assistance offers free strategy sessions, check out the resources in our Small Business Learning Centre, or check out our FAQs about social media.
If you are keen to learn more, why not watch a Social Media Webinar?
Our social media specialists can also take care of social media for your business, including content generation and scheduling, which frees up your time to focus on your business.
Book a free 15 minute social media strategy session to discuss your small business needs today.
Spread the word! Share this article:
ProfitAbility Virtual Assistance specialises in Small Business Support for Business Owners.
Follow us on Social Media
Ph: 1800 VA HIRE
Suite 6 & 7, 67 East Street
Po Box 736
ROCKHAMPTON QLD 4700